Maybe you've been to some of the world's biggest theme parks such as Disneyland or SeaWorld, or famous museums like the Louvre.
But perhaps it's time to go in search of a raunchier adventure.
From erotic theme parks to a museum dedicated to sex machines, there is a plethora of saucy tourist attractions around the world.
Here are eight of the sexiest sites waiting for you to embrace.
1. Sex Museum, Amsterdam
Let's start with Amsterdam's famous Venustempel Sex Museum. Located in the busiest spot of Amsterdam on the Damrak, this is one of the world's first and oldest sex museums. The museum explores sensual love through the ages, displaying an extensive collection of erotic pictures, paintings, photographs, objects and more. Among the highlights are the bike riding mannequin enjoying her ride a little too much. And the two giant plastic penises complete with scrotums which double as seats. And the creepy life-size, mechanical man who opens his trench coat to flash his bits at you. The museum looks and feels outdated but you can't accuse it of not having a sense of humor.
2. Loveland, South Korea
Jeju Loveland is an outdoor sex-themed sculpture park boasting a collection of over 140 statues of humans and animals in various sexual positions. Just 10 minutes away from Jeju International Airport in South Korea, the park features sensual sculptures which border a lake, including two fully-clothed lovers who are sweetly kissing, to a collection of sculptures in more graphic sexual scenarios. Jeju Island, also called the Island of the Gods, is a popular destination for honeymooners and the park is targeted at newlyweds.
Photo via www.ocio.net 
3. Penis Park, South Korea
If Loveland doesn't do it for you, you can check out Haeshindang Park, otherwise known as Penis Park, also in South Korea. Located on the beautiful coast of Sinnam, this park is packed with phallic monuments and statues. Penis Park is dedicated to the memory of a young woman. Legend has it that a fisherman left his virgin girlfriend behind on the rocks while he went out to catch some fish. A wild storm hit and of course, the young girl died. Following her death, the villagers were unable to catch fish, so they built giant wooden penises in a bid to appease the girl's spirit. This apparently did the trick and fishing resumed as normal, but they just kept building more phalluses.
Photo via www.metro.co.uk
4. Erotikaland, Brazil
Slated for 2018, Brazil is planning to open Erotikaland, a sexy theme park which will offer a '7D' vibrating cinema, bumper cars shaped like genitalia and an aphrodisiac-serving snack bar. There will also be a clothing-optional pool and water slide and a history-of-sex museum. The proposed park in Piracicaba is billing itself as an "erotic Disneyland" and will cost $100 to enter.
Photo via www.dailymail.co.uk
5. Sex Machines Museum, Prague
Opened in 2002, the museum claims to be the only one in the world dedicated to sexual gadgetry. The museum spans three floors and includes copulation tables, iron corsets and assorted stimulation devices, some dating back to the 16th Century. You'll also find domination chairs, chastity belts, some of the earliest pornos ever filmed, shoes worn by ancient Greek prostitutes, and a large erotic apparatus from a women's prison in Germany created to pacify the, ummm, "fervent feelings" of the inmates. Some exhibits are accompanied by mannequins to show patrons how the machines are supposed to work. In some cases, they are that bizarre they require a visual how-to guide.
Photo via www.megatour.cz
6. Love Valley, Cappadocia, Turkey
Not every sexy attraction is man-made. In Cappadocia, famous for its fairy chimneys, you'll find the unique "Love Valley", whose moniker comes from the cluster of pillars which have formed a phallic shape. These huge, erect structures may seem like some sort of ancient tribute to fertility, however they have been formed naturally by erosion. The area, just outside the city of Goreme, provides some truly unique photo opportunities. If you go, you'll see plenty of tourists playing with perspective and posing provocatively with the pillars.
7. Erotic Heritage Museum, Las Vegas
In the place they call Sin City, it's no surprise there's a museum dedicated to all things sex. The Erotic Heritage Museum is a two-story, 24,000 square-foot space that is the largest erotic museum in the world. The museum features exhibits that "promote the preservation and acceptance of human sexuality". Many of the displays change every few months and are interactive. It includes a collection of antique and ancient sex toys. Made of stone, marble and even jade, a few of these artefacts date back to 1500BC. Visitors can see the largest sex bike in the world (a two-story tandem bicycle which happens to be the museum's centerpiece) and an adult film exhibit which takes you on a historical timeline of the industry. It's also home to the live show Puppetry of the Penis, where two guys bend their malleable members into bizarre shapes like boats and pelicans. Be warned; this isn't for the bashful.
Photo via www.lasvegasadvisor.com
8. Chiang Mai Erotic Garden, Thailand
Said to be the first of its kind in Asia, The Erotic Garden and Teahouse features plenty of phalluses, landscaped breasts, erotic plants that resemble genitals, suggestive vegetable sculptures and even a giant golden butt. The gardens opened in 2015 and are the creation of Katai Kamminga, who said the garden's inspiration came from her study of erotic arts.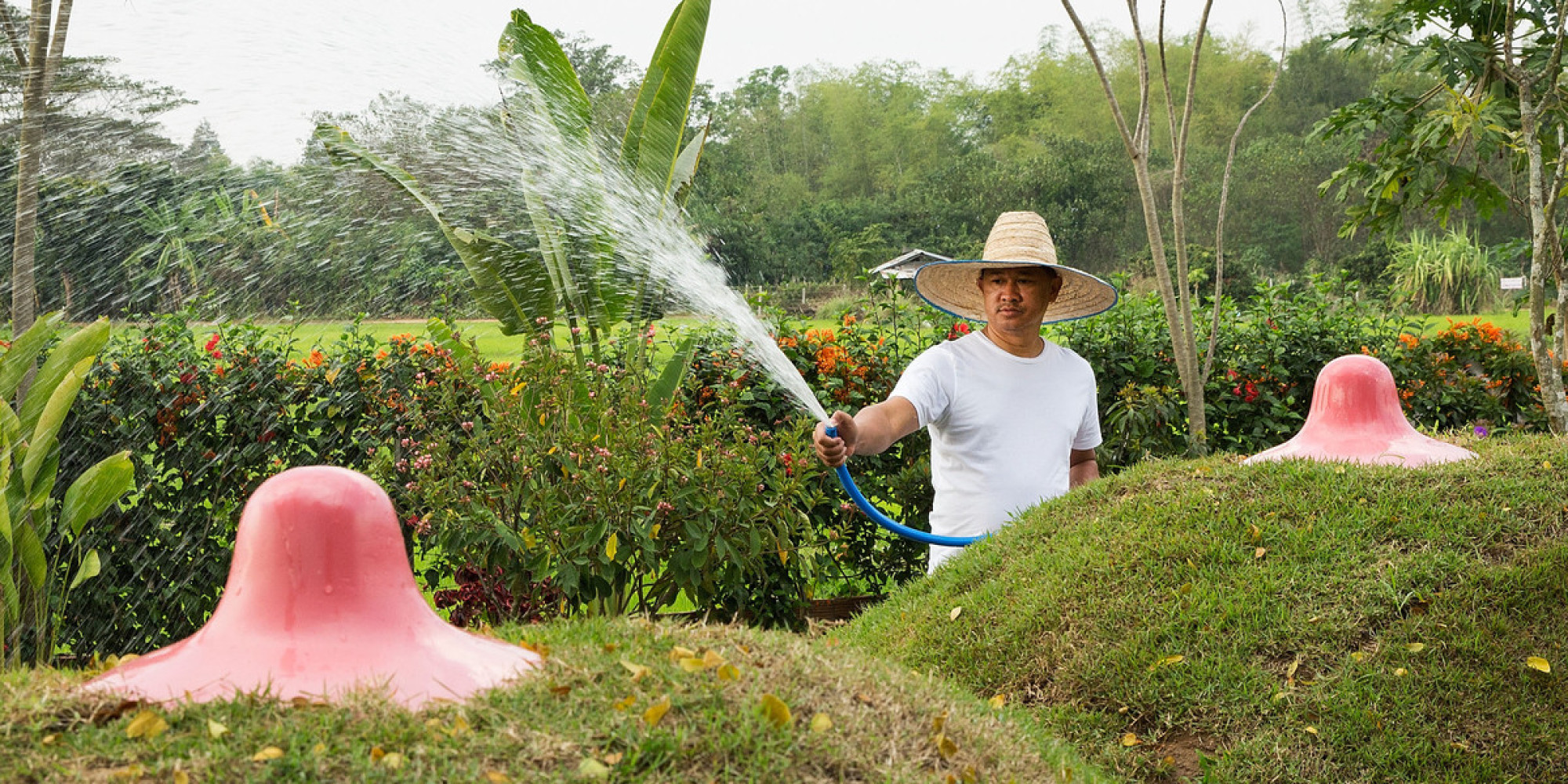 Photo via www.huffingtonpost.com. Taylor Weidman.
Have you been to any of these attractions? Let us know your thoughts or comments in the comments section below. If you enjoyed reading this article, please spread the love and use the share buttons below.