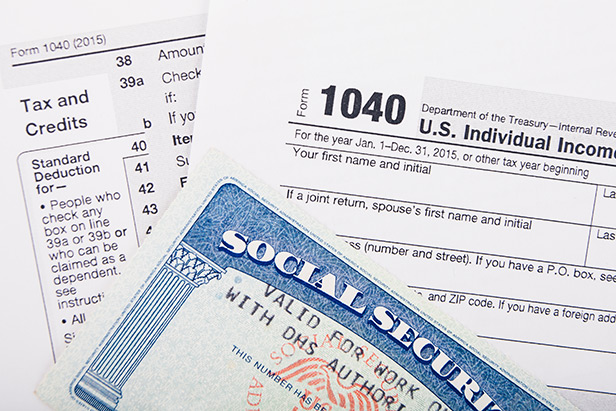 A social security number is a credential unique identifying number that is issued by the U.S. government to its citizens and sometimes non-citizens (need for several purposes). As a matter of fact, you must have a social security number to obtain employment. The SSN is used for taxation purposes, which warrants retirement money.
The first time when the government introduced social security back in 1936, it was not meant to be so widely used like it is today (identifying and tracking people). Today, the number is used in everything from tracking lifetime earning, calculating social security benefits, to opening checking accounts. The number is also used when filling out a new-patient form at the hospital.
At the same time, businesses will ask for social security number because it is the most convenient way to identify a customer. However, criminals do also use social security numbers to commit identity theft. As such, you should really be careful when giving out your SSN.  In other words, you should give it out when it is necessary.
How To Apply For A Social Security Number?
For you to succeed in applying for a social security card or number, certain documents must be presented to the Social Security Administrative Office.  The documents must show proof of age, name, identity, and citizenship. For example, to prove your age, date of birth, name, and citizenship, you will need a birth certificate. You can use your national ID or driver license as identification documents.
Identification documents that you may use include:
U.S. passport
State-issued ID
U.S. driver's license
If by any reasons these identification documents are not available, you will be asked to bring the following documents:
Employee ID
U.S. military ID card
Health Insurance card (not Medicare card)
Adoption Decree
School ID
Marriage Document (Only in name changing situations)
Life Insurance policy
All the documents needed must be original copies and certified by the agencies that issued them. These documents will prove your identity, age, and name. As soon as the SSA verifies your documents, you will receive your social security card instantly.
The Purpose Of Having Social Security Number
A social security card has many purposes. One of its purposes is retirement or disability income. When it is time to retire or need social security disability income, the government will use the information available regarding your social security contribution to determine your eligibility and calculate your benefit payments. There are people who will use the same social security number all their life, whereas there are others who will need to apply for a replacement SS card at one point because of identity theft. The second purpose of a social security number is tracking taxes.
Why and When You Need A Social Security card
For U.S. Citizens
There are many situations that will require you to have a social security number. These situations include:
When Seeking New Employment – you will be required to produce a social security number anytime you get hired. Your employer or the accounting department will use the number to report any changes in your income to the Internal Revenue Service (IRS). Also, the number is used to report your Social Security Wages to the SSA. The employer will use it to file for state income tax. Also, employers who use E-verification services (this is a program that verifies that an employee can legally work in the united states) must obtain social security number before employment begins.
When Opening An Account With Any Financial Institution – From 1970, the federal government placed regulations that required banks to obtain social security numbers from customers. These financial institutions will use your SSN to check and verify your credit so that they can report your investments, interests, or losses to the IRS. They will also report your tax deductions mortgage interests as well as managing your account. The alternative is that other financial institutes will admit a taxpayer identification number (EIN or Employer Identification Number), which one must apply through the IRS.
Applying For Federal Loans – The government does also use social security number to ensure that you are eligible for a loan when you need or apply for a federal loan (example, federal student loan). For example, regulations dictate that when applying for a student loan, you must not be in default on another federal finance. You must also have an appropriate visitor status or citizenship, and all male candidates must have selective service registration.
When Applying For Certain Public Assistance Programs – These programs include unemployment benefits, social security disability income, and much more. These programs are mainly managed by the state or federal government agencies who use social security numbers to identify those who have qualified for such programs and benefits.
Medicare Enrollment – The Centers for Medicaid and Medicare services work together with the Social Security Administration to enroll people in Medicare.
Getting A Driver's License – If you have Social Security number, you have to provide it when applying for the driver's license.
Tax Returns – The IRS uses SSN to match the income you report on your tax return to the income financial institutions and employers report having paid you. You are also required to provide your child's social security number to claim your child as a dependent on your tax returns.
Applying For Passport – A social security number must be produced when applying for a U.S. passport; according to the federal law. If you do not have a social security number, surely expect application processing delays. If you had one and you do not provide it, you may receive a $500 fine.
For Non-Citizens
Non-citizens are exempted from providing social security number if they do not have. This applies in many situations where a social security number is needed, including getting a driver's license, registering for school, opening a bank account, getting private health insurance, or applying for public assistance like subsidized housing.
The government does not like giving social security cards to non-citizens, especially those who are not authorized to work in the states. However, without a social security number, all financial institutions will be able to run a credit check, which simply means that you will find it difficult to get a loan or credit card.